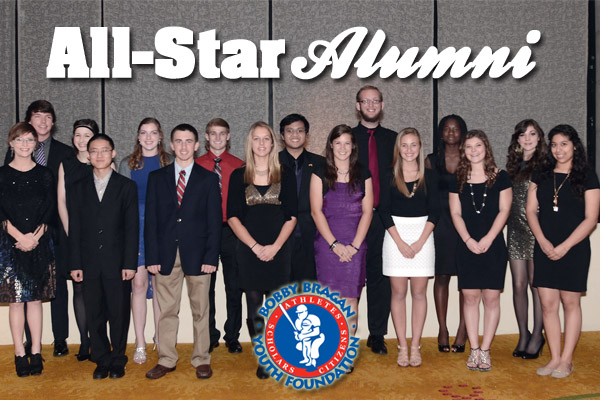 Share Your Success!
The Bobby's All-Star Alumni campaign allows past scholarship winners to directly participate in increasing the number of college scholarships that are awarded by the Bobby Bragan Youth Foundation each year, while securing the BBYF scholarship program for generations to come.For every $2,500 collected by this campaign an additional scholarship will be awarded to a deserving student at the 2016 Scholarship Celebration.
Click here to donate online.
Give back to the organization that gave you your first college scholarship! Remember the year you won? Use that as your donation guide!
A Team
Give the year of your award! (ex. 1992 winner gives $19.92)
AA Team
Double the year of your award – and receive an invitation to the BBYF Senior Send-off Party held annually at Joe T. Garcia's Mexican Restaurant! (ex. 1992 winner gives 2 x $19.92)
AAA Team
Move that decimal one space to the right – and in addition to the Senior Send-off Party, receive an invitation to join us in a luxury suite for an evening of Texas Rangers baseball! (ex. 1992 winner gives $199.20)